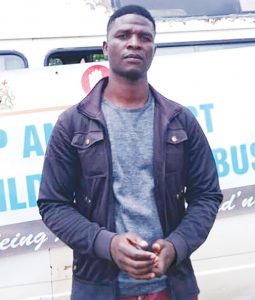 Ex-convict Maxwell Makande never knew that he would have a chance to perform in Europe and fly the country's flag.
Makande spent years at Chichiri Prison in Blantyre after being found on the wrong side of the law and he nearly lost hope.
But thanks to his acting and dance talent which brought back his lost hope and has given him a passport today to fly to Europe and participate in a Theatre Konstanz production of Wole Soyinka's play King Baabu.
Makande, who is out of prison and has been involved in a number of performances with Nkhokwe Arts and stars in a soap titled 'Choices' written and directed by Ashukile Mwakisulu, leaves the country next week Monday for Germany with four other actors – Mphundu Mjumira, Dipo Katimba, Noah Bulambo and Felistus Kamloni.
They are expected to stay in Germany for three months.
Unlike the other three actors – Mjumira, Bulambo and Katimba, who have had performances in Europe before, Makande and Kamloni are travelling to Europe for the first time and this is courtesy of nothing else but talent.
"It is like a dream for me but it also tells it all that we must value talent. It is high time the country supported talent and the creative industry. The creative industry is not only there to provide entertainment but it has all the potential to uplift the economy of the country," he said Tuesday.
He said theatre and dance has assisted him a lot since he came out of prison and that it was what was giving him his bread and butter.
Even when I was in prison, theatre always brought smiles whenever I was sad and it even gave fellow inmates good moments whenever we were performing. There is a group at Chichiri Prison – Chichiri Prison Cultural Troupe which is doing well at the moment, I was part of its formation," Makande said.
He said his performance in Europe will give him a chance to show what Malawi has in terms of talent.
"To the youth, let them show their talents because you never know what you will become. For me I realised I loved art and I made sure I showed it out. Now I will benefit in terms of exposure in Europe but I will also be able to learn from other actors and even reach out to different audiences since we will tour with the play," Makande said.
Mjumira, who starred in another Theatre Konstanz production in 2018 titled Fear Eats the Soul which toured Germany and Europe, heaped praise on Makande.
"He is quick to learn and always strives to bring out the best," Mjumira said.
The veteran actor, said their participation in King Baabu was a clear testimony that the country has talent.
According to the synopsis, King Baabu is a naked satire on the rule of General Abacha in Nigeria.
A vibrant writer who gives a great insight on hot topics and issues