National
Anti-Corruption Bureau quizzes Kezzie Msukwa
Court wants lawyers' submissions Friday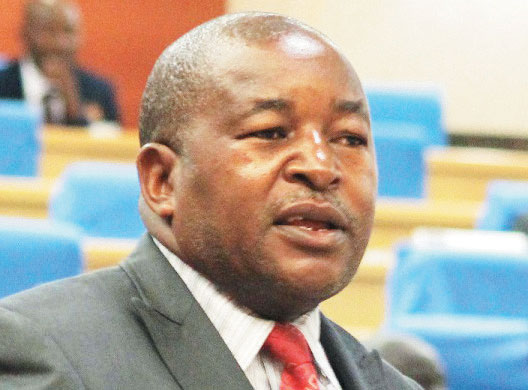 Anti-Corruption Bureau (ACB)'s lawyer Monday quizzed former Lands minister Kezzie Msukwa and his lawyer Lugano Mwabutwa over their claims that the graft-bursting body acted in bad faith when arresting the former minister.
However, during a Judicial Review session before High Court Judge Redson Kapindu in Lilongwe Monday, the ACB did not question Ashok Nair, who is Msukwa's co-accused in the matter.
Among other things, ACB lawyer Victor Chiwala claimed that Msukwa and Mwabutwa's statements had some discrepancies.
He said some of the facts the two raised were not tallying.
Briefing reporters outside the court, Chiwala claimed that both Msukwa and Mwabutwa failed to answer some of the questions posed to them.
Among other things, Msukwa claims that the way he was arrested was inhumane, cruel and degrading.
"Honourable Msukwa indicated, in his documents, that, when we were arresting him, he was sick but when we were cross-examining him, he said 'no'; he was fully conscious and knew what was happening. He was moving on his own without any help. Those issues also came [out] in court," Chiwala claimed.
He said that going through Msukwa's documents, in some areas he claims that he was arrested while on his sickbed in hospital while, in other areas, he says he was arrested outside the hospital.
"When we talk of arrest, you are arrested at one place, not two places as claimed by Honourable Msukwa.
"If a person commits a crime and is evading arrest, what do you do? To us, it was reasonable under the circumstances to arrest him," Chiwala said.
On why ACB did not question Nair Monday, Chiwala said the court recently gave an order that there were some questions that the court needed to review because they were legal in nature.
Among other things, Chiwala said there was a question on whether the law of Mutual Legal Assistance allows the ACB to enter into agreements with foreign agencies.
"Those questions are purely legal in nature. So the court gave an order that we can only discuss questions that are factual in nature," he said.
According to Chiwala, Nair has no issues regarding his arrest and that it was, therefore, not an issue before the court.
"Summoning Ashok to court would have been a waste of time on the part of ACB because he is not a lawyer and, therefore, we could not ask him questions to respond to as [if he were] a lawyer," Chiwala said.
During Monday's session, Msukwa's lawyers also cross-examined ACB investigator Isaac Nkhoma on what happened during the arrest of Msukwa.
Msukwa's lawyer, Chimwemwe Kaluwa, said they asked the court that, since they had found new evidence, it was proper for them to go back and put all the new information in writing before it could be submitted to the court on Friday.
It is expected that, once that is done, the court would give its ruling on the matter.
The court has since ordered both sides to make their written submissions by Friday.
On January 14 this year, High Court Judge Simeon Mdeza granted Msukwa leave for judicial review in a case where he is accused of being involved in questionable land deals with Zuneith Sattar.
Mdeza also ordered a stay of criminal proceedings and subsequent release of Sattar's agent, Ashok Nair.
During the application for judicial review, Kalua said ACB operatives arrested Msukwa while on his sickbed and chained him to a drip stand, contrary to Section 19 of the Constitution on the right to dignity.
He further said ACB erred by using information from the National Crime Agency (NCA) of the United Kingdom in making its decision to investigate and arrest the suspect.
Kalua also pointed out that, under Section 5 of the Mutual Assistant in Criminal Act, the office of the Attorney General is mandated to cooperate with other international agencies on criminal matters.
"There is no evidence that the arrangement with the agency was sanctioned by the Attorney General," he said.
Facebook Notice for EU! You need to login to view and post FB Comments!