National
Chakwera criticized over nepotism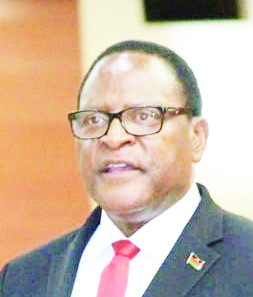 By Mandy Pondani
President Lazarus Chakwera has come under criticism over what analysts say are nepotistic tendencies.
This comes days after he appointed his daughter, Violet Chakwera Mwasinga, to serve as Third Secretary at Malawi's Embassy in Brussels.
Chakwera, whose Executive Assistant is his son in-law, Sean Kampondeni, also came under fierce criticism in July last year, after appointing a cabinet that included friends, siblings, couples, in-laws, party financers and dominated by people from Lilongwe where he comes from.
Willie Kambwandira of Center for Social Accountability and Transparency (Csat) said in an interview yesterday that what Chakwera has done reflects badly on him and sets a wrong precedent for the country.
"It is a compromise to accountability. How can the President take his relations or close allies to account? Other public officers in Ministries, Departments and Agencies (MDAs) and his cabinet will feel justified to recruit relations or close allies. It is a drawback on the fight against corruption," Kambwandira said.
George Phiri of University of Livingstonia said it defies understanding that Chakwera continues to do the same things he accused his predecessor Peter Mutharika of and promised to end the culture of nepotism.
According to Phiri, the change that Malawians anticipated when they voted the Tonse Alliance into power seems to be different.
"There is no critical change that Malawians should expect. It was bad when Mutharika had relatives and cronies in public positions but now they have no problems with it; it is unfortunate," Phiri lamented.
University of Malawi political analyst Earnest Thindwa has attributed the development to politics of patronage.
He said well-wishers, friends and relatives feel entitled to reciprocity from the victor they supported during electoral canvassing.
"A majority of citizens would not have issues if relatives of those in influential positions are being appointed in public offices through an open, fair and competitive process. Where transparency and competition are not factors, appointment of relatives into public office even if they are qualified will almost invariably raise ethical questions, create perceptions of unfairness and accord the incumbent administration nepotistic credentials," Thindwa said.
He challenged Chakwera to commit to creating a meritocracy society where every citizen feels has a fair chance to compete, saying this is critical for national building
During the swearing-in of the cabinet on July 10, Chakwera backed his cabinet appointments.
He said they were merit-based and that each of them had a proven track record to lead people effectively.
He promised a performance appraisal after five months. One year on, Chakwera is yet to fulfill them.
Chakwera has also assigned Vice President Saulos Chilima's mother-in-law Margaret Kamoto to the embassy in Lusaka –Zambia.
State House has defended the President's appointments, saying all appointees are qualified for the given jobs.
Facebook Notice for EU! You need to login to view and post FB Comments!