Vitumbiko Jere, UN World Food Programme:
Annie Boniface, 36, and her husband Khefasi, always struggled to feed and pay school fees for their 5 children. Failure to provide for their children led to two of their daughters to drop out of school.  Due to lack of farm inputs like fertilizer, the family could not harvest enough food and could often run out by September every year.
"Often, we relied on casual labour to bring food to the table, as such we hardly had time to tend to our own farm," said Annie. "When our second-born daughter was selected to secondary school, we could not support her with basic needs to continue with her education. She dropped out of school. We lived such a difficult life."
"Today, with the money from the Village Savings and Loans or VSL (see box), I have set up a retail shop, bought 2 bags of fertilizer, supported my children's education and bought various livestock," says Annie, a member of Tadala Village Savings and Loans from Mgololo village, Traditional Authority Mkhumba in Phalombe District.
A Village Savings and Loan Association (VSLA) is a group of people who collectively support each other for saving money and offering loans at a local-level for communities who do not have ready access to formal financial services such as banks or microfinance institutions. The interest accrued from loans is shared out to all members at the end of the year according to their level of contribution to the total amount saved by the group.  Village Savings and Loans Associations increase smallholder farmers' ability to purchase food, agricultural inputs, invest in income generating activities, cover the cost of education, and health-related expense and diversify their livelihoods.
In 2018, Annie started participating in WFP's Food Assistance for Asset (FFA) Programme. Through the programme, her nightmares of food shortage and money for other domestic needs were eased.
FFA participants build or maintain assets to improve their livelihoods – like restoring degraded land, developing veggie gardens, irrigation farming, and reforestation – creating healthier natural environments, reducing impacts of shocks, and strengthening resilience to natural disasters. Participants receive a cash transfer of MK 14,000 per month to meet their food gap for 6 months.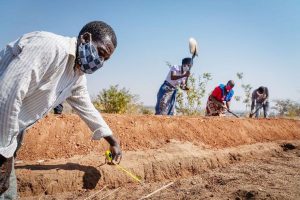 "The cash I received from the months of July to December eased the burden of sourcing food for the family. The money also addressed urgent needs at home other than purchasing food including paying school fees for my children, buying farm inputs and any savings we could make was reinvested in the Village Savings and Loans (VSLs)," said Annie.
That same year, Annie joined Tadala VSL group after learning from other members in the community how their lives had changed after joining.  "What prompted me most to join was the lack of school fees for my daughter. I thought that perhaps VSL would ease my burden of paying school fees for my child," said Annie.
"At the end of 2019 cycle, after saving MK41,000, I got a total share-out of MK89,000. Now I have 16 chickens, 6 ducks, 3 guinea fowls, and 3 goats. These supplement me with eggs and meat which provide my family with a nutritious diet. They are also a source of income as I can even sell some when I need money," she added.
"I got so excited to get this much as I had never gotten that amount of money before. With that money I started a small-scale retail shop – selling groceries like soap, and dry food items," she said. With these assets Annie and her family were relieved of economic stress they had been experiencing.
"My retail shop gives me at least a profit of MK15,000.00 in a month. The profits are then used to support the education of my children, buy farm inputs like fertilizer, buy clothes and even buy food," she said.
Annie plans to expand her business and buy more land to produce more food for her family. ''I am an inspiration in my community for what I have achieved,'' she concluded.
World Food Programme has partnered with World Vision Malawi and with the support of USAID to implement an integrated resilience-building programme targeting smallholder farmers in Phalombe District. The project has increased access to food to prevent severe hunger, improved nutrition status and created assets in the targeted households to improve livelihoods.
Facebook Notice for EU! You need to login to view and post FB Comments!