Features
Empowered to fight gender-based violence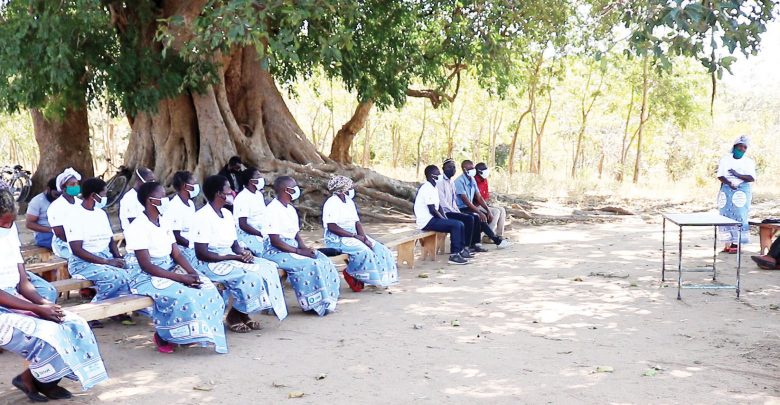 Thirty-two-year-old Brenda Lipenga says she endured various forms of violence including beatings from her husband.
It started in 2013.
It ended in 2019.
For the mother of four, who lives in Chisoni Village in Sub-Traditional Authority (ST/A) Phimbi in Balaka, it was all about water.
Ironically, the area which lies close to major rivers – Livilizi and the Shire – used to face water challenges.
Like Lipenga, most women in the area would walk long distances to other villages to fetch clean water for their families as at that time their village had no boreholes.
They woke up at 4 o'clock every day to walk the distance.
Because of the long distance they needed to cover, they came home late for fieldwork.
That brought troubles.
"My husband would beat me whenever I report late to help him in the fields on assumption that I was seeing other men," Lipenga narrates.
She says the long distances she was travelling to and from the river or other villages to fetch water and the beatings at home started taking their toll on her and her children so much that she found it tough to engage in some income-generating activities.
It was when she reported the matter to a Community Action Group (Cag) in the village that things started to change.
"The committee members visited us and cautioned my husband that what he was doing to me was gender-based violence (GBV).
"At first, he was angry that I had reported the issues which he thought were private to the group but when members of the group warned that they would report him further to non-governmental organisations (NGOs) and police, he changed," Brenda says.
But it was not only threats of reporting Brenda's husband to NGOs or police that changed her husband's and indeed other men's attitudes towards women in the area.
Cag at Phimbi has been identifying reasons for various kinds of abuse women face in the area.
After noticing that one of the reasons for the fights was long distances the women were walking to access clean water, Cag in the area started advocating construction of a police unit and drilling of boreholes in the area.
The boreholes came but the police unit is still advocacy work.
"It was in 2019 that Eagles Relief drilled six boreholes in this area and, since then, cases of gender-based violence have decreased as women are able to access clean water closer to home," Alex Chiphathi, a community activist, says.
Chiphathi agrees with Lipenga that before the communities came together to facilitate drilling of the boreholes, GBV cases, especially those to do with husbands beating their wives, were rampant.
"We would actually receive at least 10 complaints every day bordering on GBV at household level until the communities through Cag started civic educating the people on GBV," Chiphathi says.
In December 2019, Violence against Women and Girls initiative was launched in Nsanje and Balaka.
The three-year programme, which is being implemented by Oxfam in partnership with Women Legal Resource Centre, seeks to improve local and national responses to ending violence against women and girls.
It is through this initiative that communities at ST/A Phimbi and others are now coming together through Cags to sensitise the masses on GBV and its consequences.
Through such interactions, rural masses are now able to note and report GBV to authorities.
The masses are also able to check if absence of some resources and services in communities is promoting GBV.
The communities then appeal for those services as part of efforts to reduce violence against women and girls.
Community policing forums that have been established in the areas in the districts are able to work with police in following up and prosecution of such cases.
"Since we started engaging communities, we have seen a rise in reported cases such as economic, physical and emotional abuse and failure by men to follow proper procedures when they want a divorce.
"Because of this awareness, the number of cases is now dropping," says Harrison Nogwe, Balaka Police Community Policing Coordinator.
Nogwe says police in the district are supporting community structures with resources apart from carrying out civic education campaigns in such areas.
"Previously, we would register more than 10 cases of GBV per month but following the interventions, Phalula Police only recorded three cases from Nyanyala and Phimbi areas," Nogwe says.
Malawi Demographic and Health Survey 2015/16 found that within 12 months prior to the survey, 34 percent of women aged 15- 49 reported experiencing physical violence, 14 percent experienced sexual violence while 23 percent experienced emotional violence in the country.
Facebook Notice for EU! You need to login to view and post FB Comments!
Eric Msikiti is a Senior Reporter/News Producer at Times Group. Though relatively young, Eric boasts years of experience in Malawi's media industry.