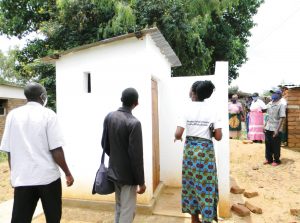 By Isaac Salima:
Situated in Senior Chief Govati in Thambani area, Mwanza District, Kalanga Primary School is just like any other government school in a rural area. There is nothing worth catching attention at the school, located close to Kalanga Trading Centre.
However, today, the school, which was constructed decades ago, requires serious renovations as worn-out doors and cracks in classroom walls are visible from a distance.
Members of Govati Area Development Committee (ADC) were moved by the institution's condition.
"We decided to use part of our 2020-21 School Improvement Grant (SIG) allocation for some renovations at the facility," Govati ADC Chairperson, Lephat Mtekesa, said.
The project involved repairing floors, chalkboards and replacing some iron sheets on classroom block roofs. Eventually, children who flock to the school as their nearest are learning in conducive environments.
Their parents are also content that the K681,000 SIG allocation was put to good use.
Few months after the project was completed, the ADC members, council officials, journalists and officials from Development Communications Trust (DCT) went to monitor projects implemented using SIG and District Development Fund (DDF) in the border district.
The tour's first target was a refurbished classroom floor. It was of poor quality and had already developed cracks despite that it was just months old.
Mwanza District Council Public Works Officer, Clement Kamwendo, said it was a concern that most ADC members do not seek advice when carrying out development projects under SIG.
"Like in this project, they were supposed to use almost 20 bags of cement in this classroom but, instead, they used 10. This is because they did not consult us so, they ended up procuring materials they could afford not what were required," Kamwendo said.
He added that, moving forward, the council would only release SIG to ADCs that first present their planned activities.
"We need to avoid scenarios where money goes down the drain. ADCs that will not be giving us planned activities will not be getting funds for such projects," Kamwendo added.
According to the SIG guidelines, schools are supposed to submit their School Improvement Plans (SIPs) to the Primary Education Adviser (PEA) and then to the coordinating PEA at the district council. Funding is done based on the plans.
From the tour of the project, the journey took us to Kalanga market for another exercise of monitoring how the project of constructing a toilet at the market using DDF was done.
The K500,000-worth facility is expected to improve sanitation at the market.
However, despite successfully coming up with the facility, its construction has also exposed lack of involvement of the Project Implementation Committee, which is responsible for monitoring progress.
DCT, with funding from USAid, through the Local Government Accountability and Performance, is implementing an 'Enhancing citizen capacity in demanding transparency and accountability from local councils' project in three traditional authorities of Kanduku, Nthache and Govati in Mwanza.
DCT Programmes Officer, Zione Mayaya, said the project aims at strengthening meaningful and inclusive citizen engagement at Mwanza District Council.
She said the project sampled SIG and DDF Projects by focusing on key areas such as allocation of funds against proposed amounts, amount of funds utilised and results of the project, adherence to laid-down procedures, quality of the project against the funds utilised and whether there was value for money.
She further said during the 2019/20 financial year, through the Public Expenditure Tracking initiative, it was established that 10 out of 43 schools that were analysed, were funded before submission of their SIPs.
"This being the case, the schools were implementing projects according to the funds that had been received and not according to the plans they had. This might have compromised value for money for the projects as the schools could implement projects just because they had money at hand and not necessarily based on need," Mayaya said.
Mayaya further said DCT will take its findings to responsible council officials for action.
"Additionally, the citizens, after being empowered, will engage council officials on how best they can work on the gaps noticed," she said.
To achieve the desired goals, the organisation engaged in capacity building of citizens through governance structures particularly ADCs and Village Development Committees.
A vibrant writer who gives a great insight on hot topics and issues