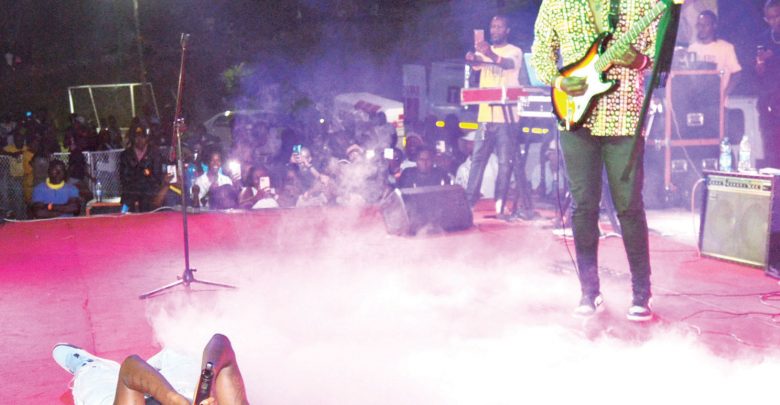 Nigerian star Fireboy DML's entry at Blantyre Sports Club (BSC) for Entertainers Promotions' Sound and Light Shandie launch on Saturday was greeted with a delirium of cheers and this was testimony enough that he was welcome to Malawi.
The tumultuous welcome for the artist, who wore a beltless jean trouser, a black jersey which he later removed after he felt hot and skyblue sneakers, was enough to energize him to offer an electric performance.
From 10pm, the musician, showed through his name Fireboy DML that he was fire and he crafted his set impressively and kept up a promise he made on Thursday that he would perform for atleast an hour – he fulfilled this.
The afro-life sound architect performed live with a local band he trained with in Lilongwe having arrived earlier on Monday and this worked for sure.
A few gaps that needed mending in terms of sound but overall everything went perfect for the artist, who connected with fans and engaged them throughout and it augured well with the Castel Malawi launch of their crispy and flavoured beer – Shandie.
Fireboy DML sailed with the impressive audience, dishing out a number of songs, most of which were familiar with the people and they sang along to most of them.
On his itinerary, the artist, who is signed to YBNL Nation, a record label founded by Nigerian rapper Olamide, did not skip 'Peru'; a 2021 single raised the spirits of BSC.
He seemed to know when to leave the microphone and he left it while it was still hot and he ended his script in style by throwing himself on the floor as he sang his heart out.
"Thank you so much Malawi for the love, I will come back," he said before leaving under heavy security.
Colours also mattered on the thrilling night – Castel Malawi with their Shandie beer gave out yellow and black T-shirts. It was a night where ladies dressed to kill and men too tried their best not to be outshined.
Hosted by Blak Jak and Priscilla Kaira, who wore a yellow sexy dress, the show lived up to its billing attract a huge audience despite having several other events in the commercial city on the day.
After Fireboy DML came Onesimus, the 'Panado' and 'Solomon'; creator and using the same local band that backed the Nigerian musician, the musician wore black attire.
"I was in black because I was remembering my mother. This was the day she passed on and Saturday was 21 years," Onesimus said.
He opened his performance with 'Miracle Money' before moving on with tracks like 'Here with Me', 'Solomoni' 'Maria' and 'Panado'.
Fans started leaving after Onesimus' performance but a few who remained had a bonus of a set from Eunice Kadzuwa Mhango and Kwathu Band and DJ Mighty Virus.
Team Entertainers executed their Sound and Light concert well and they have won kudos from many people, who patronised the show which went all the way to the early hours of yesterday.
"I just want to thank people for coming out in large numbers, as Team Entertainers, we don't take their support for granted. We satisfied the people," Team Entertainers Director Tonderai Banda, said