Sports
Flames begin Cameroon preparations
By Mphatso Malidadi: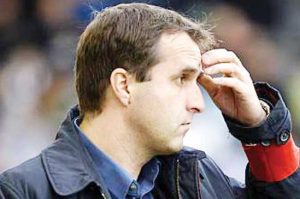 The Malawi national football team's preparations for the 2019 Africa Cup of Nations qualifier against Cameroon commence Monday at Kamuzu Stadium in Blantyre with Coach Ronny van Geneugden (RVG) calling locally based players into camp Sunday.
RVG is yet to name his foreign-based players for the October 12 encounter in Yaounde with the two teams meeting again at Kamuzu Stadium four days later.
The Belgian will release the list of his foreign legion this week but they will join the side in transit to Yaoundé.
On Friday night, the coach released the list of local players to go into camp today at Chiwembe Technical Centre in Blantyre in readiness for the qualifier.
Flames Team Manager James Sangala said it would be difficult for the foreign legion to join the squad in Blantyre because of Fifa regulations.
"As such the coach will, in the course of the week, name foreign-based players who should be part of the squad. They will then join us in transit to Yaounde," Sangala said.
He said it was important for the Flames to prepare thoroughly for the match and rectify weaknesses observed during the Morocco and Kenya matches.
Malawi are third in Group B with three points behind leaders Cameroon and second-placed Morocco.
Cameroon lead with four points whereas Morocco are second with three points, courtesy of their superior goal difference over the Flames.
Comoros Islands anchor the table with a point.
RVG has come under attack after registering just two wins in 17 games since he took charge in April last year. He has lost six matches and drawn nine times.
The following is the full list of the call-up:
Goalkeepers-Brighton Munthali (Silver), Charles Thom (Dwangwa), Rabson Chiyenda (Bullets), Nenani Juwaya (Wanderers)
Defenders-Stanley Sanudi (Wanderers), John Lanjesi (Bullets), Yamikani Fodya (Bullets), Peter Cholopi (Wanderers), Chembezi Denis (Wanderers), Gomezgani Chirwa (Civil), Precious Sambani (Wanderers), Trevor Kalema (Silver)
Midfielders-Chimwemwe Idana (Bullets Reserve), Alfred Manyozo Jnr (Wanderers), Mike Mkwate (Bullets), Rafick Namwera (Wanderers), Levison Maganizo (Silver), Gregory Nachipo (Blue Eagles), Chikoti Chirwa (Red Lions)
Strikers and Wingers-Felix Zulu (Wanderers), Chiukepo Msowoya (Bullets), Patrick Phiri (Bullets), Righteous Banda (Bullets), Gustin Simkonda (Moyale), Peter Banda (Griffin Young Stars), Isaac Kaliyati (Wanderers), Stain Davie (TN Stars) Yamikani Chester (Wanderers).  
A vibrant writer who gives a great insight on hot topics and issues