National
Government rebuffs Saulos Chilima's apology
By Faith Kamtambe: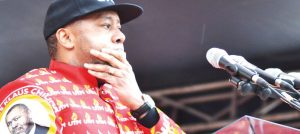 The government has rebuffed Vice President (VP) Saulos Chilima's apology following the assault of Malawi Electoral Commission (Mec) stringer, George Banda, by UTM aides at Comesa Hall in Blantyre last week.
Banda was beaten up when the VP was presenting his nomination papers as UTM's presidential aspirant.
Chilima apologised to Media Institute of Southern Africa (Misa)-Malawi Chapter through a letter which The Daily Times has seen.
Chilima said his aides have established that the incident happened due to a case of mistaken identity.
"My attention was drawn to the incident during the ceremony. From findings of my aides, the incident emanated from a case of mistaken identity. Upon learning about the unfortunate incident, I swiftly condemned the actions by some members of UTM security team. Further to that, my aides contacted Banda with regard to the unfortunate incident," Chilima says in the letter.
But Minister of Information and Communications Technology, Henry Mussa, in a statement released Sunday, dismisses the apology.
"[The] government dismisses the apology and condemns the suggestion by Dr Chilima that the violence against Banda is regrettable because he was not a target. The suggestion is worrying because it means that, in the view of the UTM leader, violence against all their targets is fine".

"We want to take this opportunity to urge Dr Chilima to mention the individual who was mistaken for Banda and provide the reasons why he or she deserved to be harmed," reads part of the statement.
But political commentator Ernest Thindwa has said Chilima did the right thing to apologise after giving his nomination papers and that the police should investigate the matter.
"The apology is not going to [the] government; the apology went to Malawians, so I am surprised that the government cannot accept the apology as if it were meant for the government. He apologised to Malawians and said the police should investigate and let the culprits be taken to book," he said.
Facebook Notice for EU! You need to login to view and post FB Comments!
A vibrant writer who gives a great insight on hot topics and issues