National
Government trims Affordable Input Programme list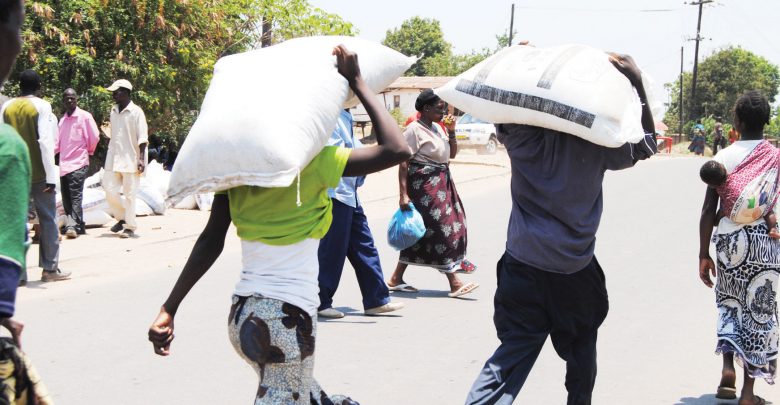 The Ministry of Agriculture has reduced the number of this year's K142 billion Affordable Input Programme (AIP) beneficiaries from 3,788,105 to 2,740,893, The Daily Times has learned.
In a letter to district commissioners (DCs), Secretary for Irrigation Sandram Maweru indicates that the decision has been taken following rising prices of inputs such as fertiliser.
This means 1,047,212 people that benefitted from the programme in the just ended fiscal year will have to fend for themselves as they will not be part of the programme.
"As you are aware that the 2021-2022 beneficiaries data updating was done some weeks ago, the Ministry of Agriculture is writing you to let you know that the data submitted was looked into through all the processes. However, due to financial constraints and the rising prices of fertiliser, the ministry, after looking into these two compound challenges, has decided to have AIP beneficiaries scaled down.
"It is therefore very necessary that the scaling down of the beneficiaries be done up to village level considering but not limited to the following factors: Be a Malawian; vulnerable smallholder farmer who has land to cultivate in 2021-22 season; should not benefit from any other agriculture supporting programmes which issue out inputs or livestock (for Nsanje and Chikwawa); not employed either in Civil Service or any non-governmental organisation; disabled/ chronically ill can be considered," Maweru indicates in the letter, addressed to DCs but with special emphasis on district directors of agriculture, environment and natural resources.
While the number of food production beneficiaries has been reduced, livestock farmers in the Shire Valley districts of Chikwawa and Nsanje have had their prayer to be provided with livestock answered.
For the first time since implementation of both Farm Input Subsidy Programme— which the Democratic Progressive Party administration was implementing from 2006 to June 23 2020—and the Tonse Alliance-led administration flagship initiative of AIP, they will get livestock in the stead of crops they say do not do well in the districts.
Under this fiscal year's AIP, 18,489 Chikwawa farmers will get livestock while 64,602 farmers have been earmarked for crop production, translating to a total of 83,091 beneficiaries.
In Nsanje District, on the other hand, 44,716 farmers will benefit from the crop production component of AIP while 11,511 will get livestock, taking the total number of beneficiaries to 56,227.
Agriculture Ministry spokesperson Gracian Lungu confirmed Thursday evening that the ministry had sent letters to DCs but was non-committal on contents of the letter.
He said, while it was true that the ministry had made a suggestion to DCs to reduce the number of AIP beneficiaries, he would be in a better position to comment on the issue today.
In a related development, a total of 469 firms have submitted bids to supply subsidised fertiliser and seeds during implementation of this year's programme.
Lungu confirmed the development in an interview Thursday morning, saying the ministry would announce names of successful bidders in the next two weeks.
Lungu was quick to note that firms that misbehaved during the last growing season had been blacklisted and would not be allowed to supply subsidised inputs moving forward.
He said the blacklisted firms include those that were supplying underweight inputs as well as those found duping farmers through other means.
In its initial year, AIP was riddled with an avalanche of challenges such as network hiccups, late delivery of the commodity, which resulted in some targeted beneficiaries spending nights at fertiliser-selling points.
"It is the wish of the Ministry of Agriculture that AIP runs smoothly and benefits the intended beneficiaries. Just like the Minister of Agriculture Lobin Lowe said in the past, firms which disappointed last year will not be part of AIP this time around," Lungu said.
Last year, the government approved 86 suppliers to distribute subsidised inputs, but Lungu said the number could go up or down depending on the final assessment.
Presenting the 2021/22 National Budget Statement to Parliament, Finance Minister Felix Mlusu said the government had set aside K142 billion for this year's AIP, targeting over 3.5 million farming households.
Under AIP, each beneficiary household is entitled to a 50-kilogramme (kg) bag of NPK, 50 kg bag of Urea and either 5kg of maize seed or 7kg of sorghum or 7kg of rice seed, depending on the farmer's preference.
Last year, the government spent about K37,000 on subsidising each farmer accessing inputs under the programme, with each farmer paying K4,495 per bag of fertiliser accessed and K2,000 for a pack of cereal seed of choice.
Malawi harvested over 4.4 million metric tonnes (mt) of maize this year, up from 3.78mt last year.
Facebook Notice for EU! You need to login to view and post FB Comments!