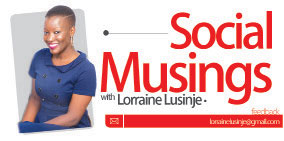 It is said that you cannot love others unless you love yourself. I think this is very true; most of us simply do not love ourselves. In love for oneself, an individual is able to recognise the humanity in him or her, and consequently acknowledges the humanity in others.
We should learn to be cautious of our actions towards ourselves as well as our actions towards others. We should watch our thoughts and words towards others just as we should watch our thoughts towards ourselves.
I find it ironic that the golden "do unto others as you would like them to do unto you" rule is the hardest to subscribe to. I am of the notion that this rule is more about the self than the other person. It clearly says you treat others the way you want to be treated, meaning the end game is what you deem the ideal way to treat yourself.
Listening to and reading global news on BBC, Reuters, CNN and Al Jazeera day in and day out, all we hear about is conflict and mass murder left right and centre. Sometimes I think twice before visiting news sites because I simply do not want to spoil my day.
Half the news content leaves one brooding and demoralised.
It is sad to watch people continuously treat others in ways any individual person would not want to be treated. It makes me question how much people love themselves. Is it that we take ourselves as more human or deserving than others? My mind is perpetually boggled with the fact that the human race continuously offers other people that which it would not accept if it was the other way round.
We have had terror groups Boko Haram, Al Shabab and Islamic State terrorising several countries in the name of religious cleansing or some political (and economic) vendettas. There have been a series of attacks in recent years; the attacks at the Garissa University in Kenya then the attacks in Syria, in Paris, in Nigeria, in Mali and the list goes on. These attacks are the definition of "cold-blood" murder and this is heartrending.
We also had the recurring xenophobic attacks in South Africa where human beings treated fellow human beings like cockroaches that could be swatted anyhow, even burnt alive. Such attacks are simply uncalled for. These were people's children, sisters and brothers and the future of the country, only to be mercilessly butchered by fellow "humans".
And, on top of the murdered people during the numerous attacks worldwide, hundreds are left injured, homeless and destitute.
Closer to home our local papers, news and social networks are always flooded with stories about failed marriages , armed robberies, gender-based violence , sexual abuse, corruption , slander and the list is endless. Malawi, a once safe and peaceful country, has become a chaotic. Love thy neighbour? This is no longer the case.
Our lack of love for ourselves is also clearly evidenced in the alarming rate at which alcohol and substance abuse is growing as well as sexual recklessness. Both the young and the old in our society are constantly engaged in such behaviours that are harmful to their health, reputation and
wellbeing as well as harmful to those that they hold dearest to heart.
People with families are behaving like wild dogs and setting all the wrong examples for their children. I cry for the next generation; the incubation process taking place now is flawed and rotten. Where is the love?
We leave in a world where people would like to breed hatred, competition, misery and terror other than love, cohesion, harmony and peace. The world would be a better place if we learnt to love ourselves.
I have always said there is no harm in going the right direction even if millions of people are doing the wrong things; wrong or right is not defined by the magnitude and frequency of the "doers". And it is never too late to make a change. Every individual can make a difference by striving to follow the golden rule: Do unto others as you would love them to do unto you.
I rest my case.
Facebook Notice for EU! You need to login to view and post FB Comments!