Features
'Kurya Ndiko Uku' fights unemployment undernutrition through technical skills
By Owen Nyaka: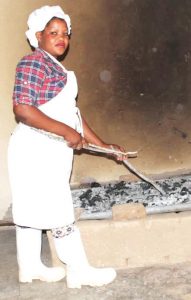 Chronic undernutrition is a major public health concern in Malawi yet there is a low public investment towards nutrition. The 2017/18 national budget allocated only MWK373 million to nutrition specific interventions, which was 0.1 percent of the total budget.
The figures on nutrition are so pathetic and worrisome. According to the Malawi Demographic Health Survey (MDHS) of 2016, the percentage of stunted, those that are too short of age in under-5 children is pegged at 37% and 16% are severely stunted.
The percentage of under-5 children who are underweight is 12% and 3% of children under the age of five are wasted, 13% have low birth weight, over 60% zinc deficiency and vitamin A deficiency (VAD) less than 5% in all age categories.
Now, if a child was stunted, his mental development is poor hence class repetitions, drop out of school early and less productive to his family and the country at large are some of the magnitudes on effects of malnutrition. Kurya Ndiko Uku, Community Based Organisation (CBO) located at Group Village Head Daniel Gausi, Traditional Authority Muzikubola in Mzimba District is fighting undernutrition through the skills of baking.
Started in 2005, the CBO was registered in 2010 and conducted its first training in 2011. To date, Kurya Ndiko Uku has a sustainable arm called Karisa Bakery. Over 700 men, women, girls and boys have so far underwent intensive vocational and technical skills development at the institution. This has also contributed to the fight against undernutrition through baking eventually building and enhancing their economic capabilities and potential as well.
Lexa Harrison, director of Kuyra Ndiko Uku said initially they started as a very small group. At that time they were making seedlings nursery and later ventured into nutrition for the same reason that the communities around had a lot of malnourished children and adults as well. They found a place which the communities get trained on how they can make good diet using the locally available foods.
Using this approach, the CBO grew and the National AIDS Commission through Global Fund grants sent 30 girls to be drilled on nutrition at Kurya Ndiko Uku. The course took three months on residential basis. The second cohort were a group of 60 women under the Ambassadors help fund. Lexa Harrison said she later met Teveta accidentally in the year 2009.
"Actually, Teveta had a meeting at Mzimba boma and some of my friends who were selling some of our produce invited me to escort them to the meeting. In that meeting, I was surprised that Teveta was talking about skills yet on break time we got fizzy drinks and biscuits. I talked to them on purchasing locally made nutritious foods. I also talked to them on empowering rural communities that have shills in backing and later my products were served in that meeting. This is how it started to partner with Teveta," says Lexa Harrison.
After the training, officials from Teveta traced her where she was located and some months later, she was picked and trained in Nkhotakota district and was given some modules at the end of her course.
Instantly after the training, she was also contracted by Teveta to drill 30 youths across the northern region but at that time she had no building to accommodate the trainers, instead she vacated her house at her Daniel Gausi village and accommodates the learners. And so, this is how the idea of constructing boarding girl's hostels started. To date, they have a fully-fledged boarding school in baking.
"Honestly, at that time I lied because I did not want to lose the opportunity. Through recommendations especially TEVETA regional offices in Mzuzu, I have trained over 700 individuals. Although, I have interacted with people of various languages but the unique thing with this skill is that there is only one language in baking and communication is so easy regardless of the level of education," says Lexa Harrison.
Through partnership with Teveta, they have constructed Karisa Bakery valued at K11 million of which part of it K3.5 million Kwacha was a donation from Teveta and they also outsource from United Arab Emirates.
At Karisa Bakery – they have drilled many women, farmers and youths in communities of Chitipa, Karonga, Rumphi, Mzimba, Nkhata-bay, Likoma, Machinga, Luchenza, Mtambanyama, Lilongwe city Area 36 and Njewa in Lilongwe rural. Most of the trainings have been funded through Millennium Challenge Account, Mzuzu SOS, Plan International, STEP, European Union, Cadecom Mzuzu and CCAP Livingstonia Synod.
The bakery has also received top dignitaries such as Jean Jackson and several Ambassadors of Japan and the United States of America including several cabinet Ministers in the Republic of Malawi.
Lexa Banda said they have also trained farmers on value additional to their products. Most of the time they are invited to train people in their localities but they also offer boarding which can take 32 students on three months basic training. The only students that are being accommodated at the centre are the ones that are funded by various organisations including Teveta.
Normally, the students spend two-months of exclusive learning with weekly assessment at Karisa and later spent a month of attachments outside the learning centre. In order to enhance effectiveness and efficiency in various informal skills development initiatives, the students are being monitored and certified by Tevet.
"On backing as business, we offer the following; baking different products such as bread, cupcakes, birthday cakes, buns, biscuits, jams, cake decorating cakes and packaging. Business plans, marketing, customer care, bookkeeping, team work and storage. We also teach how to use different types of tools and ingredients used in baking," says Lexa Banda.
She; however say the current second cohort of the Informal sector training which is underway funded by Teveta are less academic group ever. As such, she is using the mode that these out of school youth selected can easily adapt and become trainers of trainers in their respective six-districts across the northern region.
The current cohort which are 30 students, as a group they have already raised the sum of K90, 000.00 within a short period of time through selling their baking produce within villagers surrounding the bakery. Previously the first cohort which was a team of 12 students raised K1.2 million by the end of their course and the money was shared amongst them as part of their start-up capital. This has motivated the current group to do better than the previous cohorts.
One of the current students at Karisa Bakery, Eunice Zagaff who comes from Traditional Authority Mkumpha in Likoma district said the training which she is currently undertake has provided her with skills which would give her access to reasonably paid work.
"If I had not gone to Karisa bakery, I would be living a shameful life and continually dependent on other people to survive. I am a teen mother and depend on begging relish to fishermen along the island but through Kurya Ndiko Uku CBO, it has made me to be an entrepreneur," said Eunice Zagaff.
She believes that as a group their produce are selling faster because the communities around Kurya Ndiko Uku, found out that their baking are very unique and nutritious. At one point they supply to hotels in Mzuzu city, Kasungu and Mponera a manifestation of their quality and highly nutritious produce, according to Eunice
Zagaff.
The CBO; Kuyra Ndiko Uku has some preconditions that are being followed such as; the age group of the students to be enrolled must be girls of between 18 – 27 years whether one is single or not. They are also targeting school drop-outs, teen mothers and girls that are orphans and less privileged.
Once these girls are identified and vetted by the district social welfare through the district commissioners in their respective districts, they filled forms – shortlisted and conduct interviews. For the first time, it is very heartbroken that the current intake had a lot of demand but they have selected only a handful of youthful trainees per district in the northern region.
At the CBO, the students are entitled to get tools in additional to five-thousand kwacha allowance per month, twenty-five thousand kwacha during training and another twenty-five thousand kwacha during their attachments. However, this can be forfeited if the person can start indulging in immoral behaviour during the study period or at attachment.
Juliet Banda of Kande village, Traditional Authority Fukamapiri in Nkhata-bay district who is also going the same baking training course said she is very thankful to both Teveta and the training centre saying before enrolment at Karisa, she used to bake mandasi in order to support her 3 year-old child Mederina Kamanga but she was not selling much.
"Through the skills that I am getting, it is likely that I would raise more money as compared to the past. Good nutrition is a cornerstone of good health and through my skills I am sure I will directly contribute to a good nutrition which is a well-balanced diet, eventually this would also contribute to the burden of stunting" says Juliet Banda – who is a form two dropout at Chifila community day secondary school in Nkhata-bay.
Despite low budget allocation towards nutrition at national level, it has been manifested that the fight against stunting cannot be won if efforts can be done by every troop such as community based organisations.
The citizenry and different stakeholders should also borrow a leaf from what Teveta through Kurya Ndiko Uku – Karisa bakery has done in fighting under nutrition and become champions of changing people's mind-set in combating malnutrition.
Facebook Notice for EU! You need to login to view and post FB Comments!
A vibrant writer who gives a great insight on hot topics and issues