National
Lazarus Chakwera promises transformation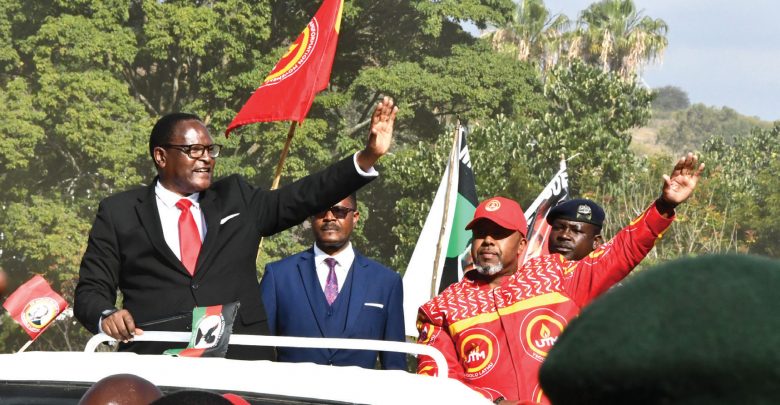 Tonse Alliance torchbearer Lazarus Chakwera has said the Chakwera-Chilima presidency is determined to transform the lives of Malawians who he said lack potable water, good schools, good hospitals and sustainable income at household level.
Chakwera, who is Malawi Congress Party leader, is partnering UTM president Saulos Chilima at the court- ordered presidential election set for June 23.
Speaking to a multitude that thronged Njamba Freedom Park in Blantyre Monday, Chakwera said the alliance that he leads wants to fight for all Malawians.
"Some people want to create enmity between me and Muslims, Lhomwes and people from the Southern Region but they have failed," he said.
The Tonse Alliance torchbearer then said his administration will empower the Office of Vice-President and accused the Democratic Progressive Party (DPP)-led administration of failing to utilise Chilima.
"Dr Saulos Chilima is an expert in economic management and development. We will leave affairs of the economy to Dr Chilima so that we create one million jobs, we provide good schools, good hospitals and other services to Malawians," he said.
In his remarks, Chilima said the Tonse Alliance is for all Malawians who are fed up with what he described as day-to-day misery.
He further said the alliance is not of two families who want to be protecting each other from facing the long arm of the law.
Former president Joyce Banda alleged that the DPP-led administration is using the Covid-19 pandemic to steal money from the government.
Banda said the Chakwera- Chilima partnership will end what she called shameless stealing of public resources.
In previous interviews, Minister of Information Mark Botomani charged that the government is not interested in responding to Banda's allegations.
Leader of Citizen for Transformation, speaking at Njamba rally, Timothy Mtambo, also challenged Malawians to forget their religious, regional and tribal affiliations in the forthcoming fresh presidential election saying no problem is Chewa, Tumbuka or Lomwe.
"Do you my fellow youths want jobs? Do you my mothers here want a good business environment? Do you want working health, education, and agriculture systems? Dr Lazarus Chakwera and Dr Chilima here are the answer," Mtambo said.
Facebook Notice for EU! You need to login to view and post FB Comments!