National
Malawi's job crisis comes to spotlight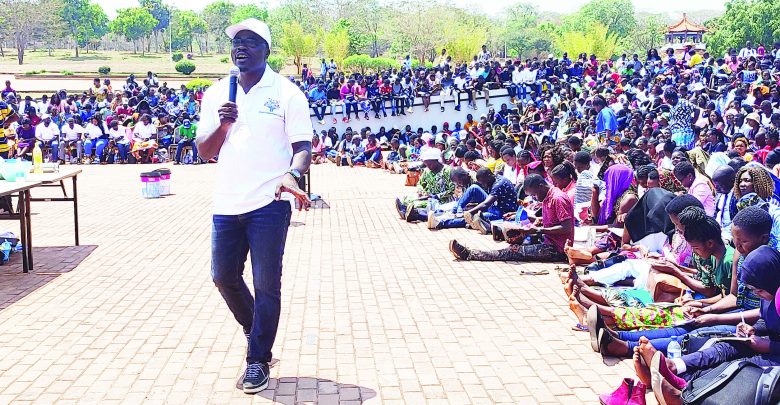 By Mandy Pondani
The reality of unemployment among young men and women in the country reared its ugly head in Lilongwe yesterday when thousands of them showed up for free lessons in making various products locally.
As early as 6am long queues of youths could be seen snaking out of the training venue at Bingu International Convention Centre as people gathered to listen to lead trainer Kondwani Kachamba Ngwira.
Ngwira said young people continue to bear the brunt of unemployment and economic woes that Malawi is facing.
"There was commotion because of the numbers. The people could not fit in the room that was arranged for us, and so we had to come outside.
"We are committed to equipping every willing citizen with the necessary skills and knowledge which can help them support themselves," he said.
Ngwira said he hopes to train and establish over 5,000 local manufacturing businesses from the various clusters.
"We have seen a knowledge gap among our people, and it emanates from the education system, and these are young adults we are targeting so that they are able to make various products from locally available raw materials," said Ngwira who heads Project Innovation Center.
Robert Mkwezalamba of the Black Economic Movement said Ngwira's initiative should motivate government to address the various challenges that young people are facing.
"This should tell you that Malawians know what they need to uplift their lives. Our appeal is that government should come out seriously and engage Kondwani to help them train young people benefiting from the National Economic Empowerment Fund," he said.
Minister of Youth and Sports Richard Chimwendo Banda who showed up at the event said Ngwira's initiative cannot be separated from what the government is doing.
He said Ngwira is building on government's plans for young people.
Ngwira said he is engaging the Malawi Bureau of Standards to ensure that the budding manufacturers adhere to prescribed standards and safety requirements for their products which include powdered milk, maheu, petroleum jelly, cornflakes, soap, cakes, biscuits and others.
On June 9, 2020 several young people were injured in stampedes when thousands of them gathered for walk-in interviews for Health Surveillance Assistants in Blantyre, Mzuzu, Mulanje and Lilongwe.
Facebook Notice for EU! You need to login to view and post FB Comments!