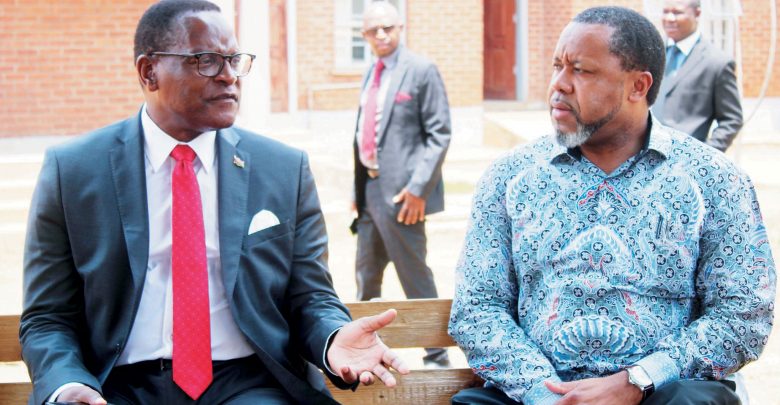 The Constitutional Court sitting in Lilongwe yesterday fined Malawi Congress Party (MCP) and Malawi Electoral Commission (Mec) over the issue of filing documents.
Judge Healey Potani said MCP had on several occasions failed to meet deadlines of the court.
He then said the party should pay K300,000 to each of all the other three parties in the case, Mec, Democratic Progressive Party (DPP)'s Peter Mutharika and UTM leader Saulos Chilima for delaying in filing a supplementary sworn statement of the party's witness, Peter Lackson Chimangeni.
"As regards the second petitioner's [MCP] delay in filing the further supplementary sworn statements, we wish to note that counsel for the second petitioner has repeatedly failed to meet deadlines set by the court. With our record of our ruling of October 7, 2019, we sent a warning that such conduct that will cause delays will have sanctions.
"In the circumstances, we are again compelled to condemn this, so the second petitioner should pay K300,000 in favour of each of all the other parties hence a total of K900,000. The decision of the court has been made on our own motion as part of ensuring that our case management directions are adhered to," Potani said.
The court also ordered Mec to pay MCP K200,000 for filing a certificate of non-compliance against the party for what the electoral body said was MCP's failure to submit Chimangeni's supplementary sworn statement.
However, the court said by that time, the party had already submitted the statement.
Judge Potani said considering that Mec filed a certificate of non-compliance against MCP when the party had complied, it is an action that should be condemned.
"Counsel for the second respondent [Mec] could have taken heed of our position on that ruling, where we stated that parties should desist from the practice of filing certificates of non-compliance. We are compelled to condemn the second respondent to pay K200,000 in favour of the second petitioner [MCP]," he said.
Meanwhile, MCP has also withdrawn five of its witnesses in the case.
Mec declared Peter Mutharika winner of the May 21 presidential election, but MCP leader Lazarus Chakwera and Chilima rejected the result and went ahead to ask the courts to nullify it.
Facebook Notice for EU! You need to login to view and post FB Comments!