National
Monday Release HRDC duo—Chakwera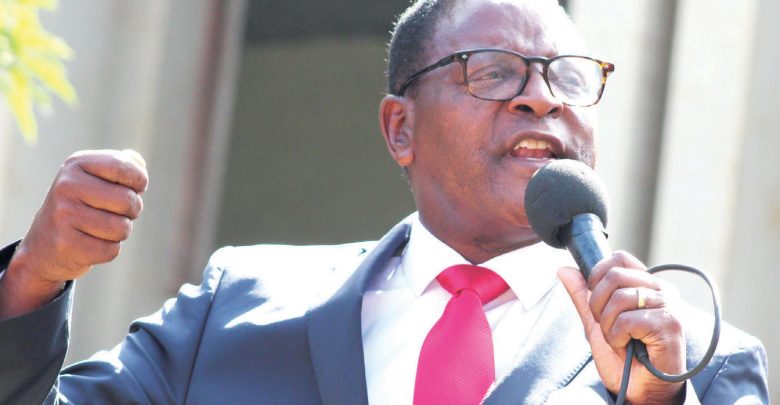 Malawi Congress Party (MCP) president, Lazarus Chakwera, Monday gave President Peter Mutharika 48 hours to release Human Rights Defenders Coalition (HRDC) Vice-Chairperson Gift Trapence and executive member Macdonald Sembereka.
In a statement, Chakwera said failure by Mutharika to release the two will force him to organise vigils at State House, the official residence of a sitting Head of State.
"I, therefore, call upon Mr Mutharika to have the human rights activists, who have been arrested, released immediately.
"Should he fail to do so within 48 hours, I will personally galvanise all peace-loving and law-abiding Malawians to march to the State House of which he is a temporary tenant and camp there until these innocent activists are released," Chakwera said.
Trapence and Sembereka were arrested on Sunday evening, barely hours after Mutharika had ordered Malawi Police Service and Malawi Defence Force to deal with HRDC leaders for threatening to seal State Houses.
HRDC Chairperson Timothy Mtambo, Trapence and Sembereka on Friday told reporters in Lilongwe that they would organise a five-million march to seal State residences following Mutharika's delay to fire Malawi Electoral Commission (Mec) commissioners and assent to electoral reforms bills passed by parliament recently.
Chakwera has described Mutharika's rally held in Blantyre on Sunday and the subsequent arrests as examples of the President's failure to comply with the law as well as failure to keep his party matters separate from those of the State over the past 10 months.
He said ever since the Constitutional Court nullified the May 21 2019 president election results, his party followers have conducted five protests across the country.
"Similarly, on February 27th, Democratic Progressive Party [DPP] supporters marched through the streets of Lilongwe all the way to Kamuzu Palace to present their grievances, and at no point were they hindered or threatened for doing so, yet he threatens supporters of other parties not to dare do the same and orders the police to arrest activists for wanting to exercise the same right. This selective and partisan application of rights is unacceptable," Chakwera said.
He added that by ordering the arrests from the platform of a DPP rally, Mutharika is in breach of several provisions of the Constitution, including Section 10(a) which states that "in the resolution of political disputes the provisions of this Constitution shall be regarded as the supreme arbiter and ultimate source of authority."
In a statement Monday, UTM spokesperson, Joseph Chidanti Malunga, also condemned the arrest of the two human rights defenders.
Malunga said the nation needs to be worried when politicians abuse privileged positions to use State organs in fighting real or perceived opponents.
"It is also a serious indictment of our government system when a police service acts at the behest of desperate politicians," Malunga said.
Writing in his capacity as Centre for Human Rights and Rehabilitation Executive Director, Mtambo, yesterday described the arrests as a DPP-orchestrated crackdown aimed at silencing human rights defenders in Malawi.
Mtambo, who is reportedly on the run, demanded the immediate and unconditional release of Trapence and Sembereka.
"The arrest of the two is a travesty of justice, a threat to the rule of law and the protection of human rights. We further demand that the Government of Malawi refrains from acts of intimidation and persecution of human rights defenders through arbitrary arrests and detentions, torture, inhuman and degrading treatment and de-legitimisation through trumped-up charges and character assassination.
"Such acts have no place in a democratic society. Our Constitution clearly allows people to enjoy the rights provided for in the Bill of Rights, including the rights to freedom of expression, association and assembly," Mtambo said.
Presidential Press Secretary, Mgeme Kalilani, was not immediately available for a comment
National Police spokesperson, James Kadadzera, could not indicate when Trapence and Sembereka will be taken to court for formal charging.
"We have arrested the two, all proper procedures are being followed including formal charges, before appearing in court," Kadadzera said.
Facebook Notice for EU! You need to login to view and post FB Comments!