National
Pac insists on 50%+1 for Members of Parliament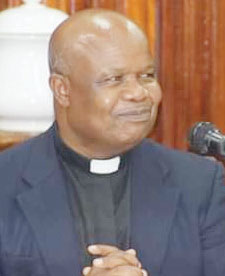 The Public Affairs Committee (Pac) has said it will continue to engage stakeholders including Members of Parliament (MPs) on some electoral reforms that continue to meet resistance like application of the 50-percent-plus-one threshold in parliamentary polls.
Chairperson of the Pac Monsignor Patrick Thawale said this Monday after meeting President Lazarus Chakwera in camera at Sanjika Palace in Blantyre.
Last week legislators passed the Parliamentary and Presidential Elections (Amendment) Bill which seeks to restrict the use of the 50-percent-plus-one threshold on MPs.
The Bill, however, is yet to be assented to by President Lazarus Chakwera.
But Thawale said representational leadership should have the backing of majority, adding it is important for legislators to be voted into positions by more than half of the electorate.
"As Pac, we haven't given up. We will continue to pursue that matter because we feel it is important. Needless to say that such issues cannot be resolved by Pac alone but through continued engagement. So we will work hand in hand with government and other stakeholders," Thawale said.
The Bill went back to Parliament after Chairperson of the Malawi Electoral Commission (Mec) Chifundo Kachale announced that the forthcoming parliamentary and local government elections would be conducted in line with the 50-percent-plus-one system.
Kachale said the resolution was in line with the court ruling in the presidential election's case of 2019.
But during the presentation of the Bill, Minister of Justice Titus Mvalo was quick to indicate that it would be costly to hold parliamentary and local government elections when candidates fail to amass the majority of the vote.
Commenting on the meeting with Chakwera, Thawale said they went to report to the President on the progress they had made on matters of religious intolerance that had erupted in recent months.
Top on the agenda were the dress code dispute in Christian Schools where Muslim girls were being barred from putting on the Hijab and the bill board saga in Blantyre whose message on the Islamic Quran was deemed offensive by some Christian quarters.
"We updated the President that both matters have been dealt with. For instance, the billboard was removed in Blantyre and a task force was instituted. On the dress code in schools, a dialogue team has been set up with seven members from each religious group," he said.
According to Thawale, substantive discussions on the matter of dress code in schools would begin after examining information gathered from the presentation by the Ministry of Education.
This was the second time for Pac to meet Chakwera since he took oath of office.
Before the meeting, Chakwera inaugurated the year's Poppy Week during which he reiterated his government's commitment to connecting the country's military veterans to a robust support system.
On November 8, the Malawi leader is expected to preside over the Remembrance Day commemoration in Mzuzu.
Facebook Notice for EU! You need to login to view and post FB Comments!