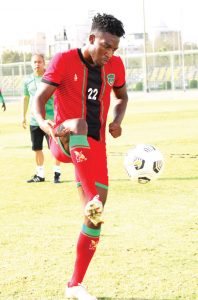 Malawi National Football Team winger Peter Banda has been ruled out of Saudi Arabia camp due to club commitments.
Banda was supposed to travel to Saudi Arabia Sunday from Tanzania but his club Simba SC did not release him.
Simba have a crucial match against Azam FC in the Tanzania Premier League on January 1 and they want the Flames winger to feature in the match.
Football Association of Malawi (Fam) Communications and Competitions Director, Gomezgani Zakazaka confirmed that the Simba forward was a major doubt for the trip.
"He has already missed the flight; so, it is doubtful that he will be available. Negotiations are underway between Fam and his club but they have a crucial match on January 1," Zakazaka said.
Banda said he was still waiting for communication from the club.
"I am still in Tanzania as we have a crucial game on January 1. But I hope Fam and Simba are discussing the issue," said Banda, who missed last week's match as he was among the group of Simba players in quarantine on suspicion of having Covid symptoms.
Banda yesterday said he has been cleared to start training with teammates tomorrow.
But the youngster could join the team in Cameroon for Africa Cup of Nations (Afcon) finals.
The rules stipulate that players have to be released from their respective clubs by December 27, which means 13 days before the start of the competition.
However, some clubs and countries can negotiate for late release of players.
Reports suggest Liverpool duo of Sadio Mane of Senegal and Mohammed Salah of Egypt could feature against Chelsea on January 10 before being released for the tournament.
Meanwhile, Flames captain Limbikani Mzava and striker Richard Mbulu arrived in Jeddah, Saudi Arabia, on Saturday afternoon alongside the second group from Malawi comprising six players and three officials.
The other six players are goalkeepers Brighton Munthali, Ernest Kakhobwe, defenders Nickson Mwase, Mark Fodya, midfielder Zebron Kalima and striker Stain Davie.
The officials are goalkeepers' trainer Swadick Sanudi, liaison officer James Sangala and physiotherapist Chikondi Mandalasi.
Goalkeeper William Thole and team manager Clement Kafwafwa, who were left behind in Addis Ababa, also arrived on Saturday after they were cleared of Covid.
Al Hilal midfielder Gerald Phiri Junior arrived in Saudi Arabia yesterday while Orlando Pirates striker Gabadinho Mhango might leave today, having failed to travel yesterday due to the absence of flights.
The Flames will be in Saudi Arabia for a 10- day camp before proceeding to Cameroon for Afcon finals.
While in Saudi Arabia, Malawi will face Mali on December 30 and Comoros Islands on January 4 as part of the preparations.
At the Afcon finals, the Flames will start their Group B campaign against Guinea on January 10 before facing Zimbabwe on January 14 and Senegal on January 18.
Facebook Notice for EU! You need to login to view and post FB Comments!