Business
Services trade balance widens to $156 million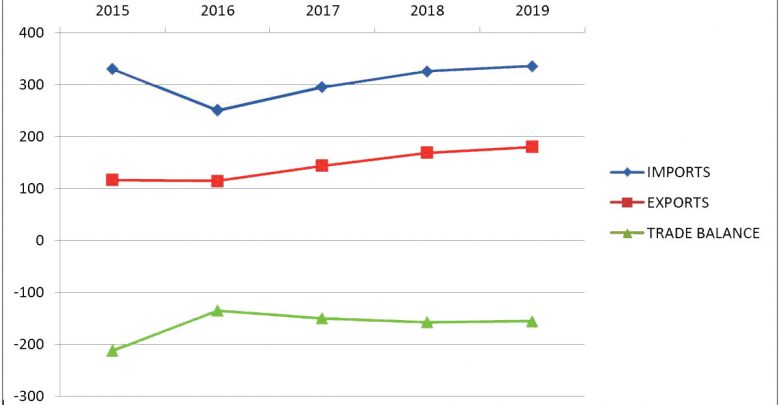 Malawi spent $335.1 million (about K248 billion) in accessing various services from the rest of the world in 2019, figures from the International Trade Center (ICT) Trade Map have shown.
The figure is however, higher than the $179 million (about K132 billion) the country earned by exporting various services to the world during the same period.
This represents a $156 million (about K115 billion) balance and the gap has remained wide for the past five years.
In 2015, the services trade balance was recorded at $212.9 million and it slightly improved in 2016 to $135.1 million.
In 2017 the services trade balance reached $150.6 million and worsened to $157.4 million in 2018.
Commenting on the development, Dean of Commerce at the Polytechnic, Betchani Tchereni, said this is an indication that the country's service industry is either not developed enough or there is lack of aggression to sell the service industry to the world.
"We need to realise that the world is moving forward, some of the traditional services such as assurance, finance, accounting, auditing, legal, banking, e.t.c are no longer very traditional.
"We need to find our niche areas. For example, Cubans are good at civil engineering and medical services. One wonders as to what is our niche area within the service industry in Malawi," Tchereni said.
Minister of Trade, Sosten Gwengwe, said his ministry is strengthening the services industry sector to turn Malawi's fortunes around.
"For too long, we have emphasised on trade in goods ignoring trade in services. We are creating a fully-fledged department of trade in services with a dedicated director to look into services. Our service sector is booming and we want to harness it and even boost exports," Gwengwe said.
UK based Malawian economist, Sane Zuka, said in a separate interview that the figure are worrisome.
"What we urgently need is a systematic policy to develop sectors that are economically viable and reduce our insatiable appetite for foreign services. It is important that the government should reduce outsourcing some of its services and develop its capacity to offer these services," Zuka said.
Facebook Notice for EU! You need to login to view and post FB Comments!