By Feston Malekezo: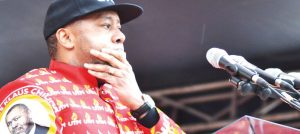 The United Transformation Movement (UTM) has dismissed as untrue reports that the Vice President Saulos Chilima-led- movement has been cleared at the High Court to be registered as a party within 21 days.
In an interview, UTM spokesperson Joseph Chidanti Malunga, said their legal team is still working on the paperwork, in its efforts to drag the Office of the Registrar of Political Parties to court.
"You know court processes are not as simple as you may think that you can just go at the court and have a decision from the court in your favour. So as of today (Friday), our legal team is still working on the matter," he said.
UTM instructed its legal counsel on Thursday to file an appeal at the High Court against the determination of Registrar of Political Parties, which through Deputy Registrar of Political Parties, Chikumbutso Namelo, rejected an application by UTM to register the movement as a party.
The refusal was on the basis that the movement presented registration documents in the name of UTM and not its full name.
According to Chidanti Malunga, the group was not given an opportunity to be heard by the registrar.
"We would like to assure all our members and supporters that our shared goal and common purpose of ensuring that our government is run for the benefit of all Malawians remain undisturbed and on course," he said.
As of September 21, 2018, UTM had up to 14 days to appeal to the High Court against the decision by the Office of Political Parties Registrar.
UTM was also expected to hold a political rally at Nyambadwe Primary School ground in Blantyre today but the move was blocked by Blantyre City Council (BCC) on the basis that the movement is yet to be registered.
Malawi News had established that the party's chairperson Noel Masangwi had obtained a stay order at the High Court on the decision by BCC to bar UTM from holding the rally.
The order granted by Judge Kenyatta Nyirenda, a copy of which we have seen, shows that the decision by BCC is stayed pending judicial review.
Facebook Notice for EU! You need to login to view and post FB Comments!
A vibrant writer who gives a great insight on hot topics and issues