National
UTM registration ruling deferred
By Jameson Chauluka: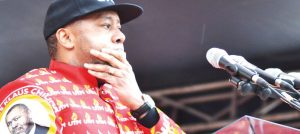 The High Court in Blantyre has deferred the ruling on registration of United Transformation Movement (UTM) as a political party.
The movement—which is led by Vice-President Saulos Chilima— turned to the courts after its application to register was turned down by the Registrar of Political Parties.
UTM was denied registration on grounds that its application documents only carried abbreviations other than the full name of the movement.
But UTM's lawyer Michael Goba Chipeta told the court that all necessary political party registration documents prescribed by Section 5 of the Political Party Act were filed to the registrar.
"The registrar erred in looking beyond the documents which the appellant [UTM and Chilima] furnished him and [looking] into the public domain. Any trained lawyer will ask: What is the name in the official documents of the organisation?' In this case, 'what is the name in its constitution and manifesto'?

"The names do not come from the public domain or promotion materials [but documents submitted for registration]," he said.
Goba Chipeta also told the court that the registrar erred in accusing Chilima and UTM of breaching the registration process without hearing from them.
Lawyer representing Registrar of Political Parties, Loness Michongwe, told the court that the registrar was justified to look beyond the documents presented to him to consider what was in the public domain.
Michongwe also wondered why the grouping removed the words United Transformation Movement from its promotional materials just after the Registrar of Political Parties refused it registration.
"After the application was denied, they [UTM] have removed the [words] United Transformation Movement from their [promotional] materials to remain with UTM. If what is in the public domain does not matter, why did they [UTM] change [the inscription on promotional material]?" she queried.
Among the notable figures at the court were UTM Secretary General Patricia Kaliati, Paul Chibingu, Richard Makondi, Felix Njawala, Allan Ngumuya and Louis Ngalande.
A vibrant writer who gives a great insight on hot topics and issues