Sports
Yamikani Chester sweeps Sulom awards
By Ronald Mpaso: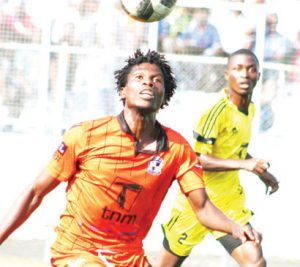 Be Forward Wanderers player-of-the moment, Yamikani Chester, is living his dream in the TNM Super League as he has won five awards in games he has played over the past three weeks.
Chester won three SPA Water man-of-the match and two SPA Water deadlock breaker accolades which have earned him a total of K65,000.
The Flames slippery midfielder was named man-of-the match during Wanderers' matches against Azam Tigers, Civil Sporting Club and Nyasa Big Bullets.
Each match earned Chester K15,000. The former Tigers playmaker was also rewarded for scoring the first goals when the Nomads faced his former club and Civil and he pocketed K10,000 from each game.
Chester thanked Super League of Malawi (Sulom) for introducing the awards, describing them as a motivation to players.
"The rewards will inspire us, players, to give out our best in every game we play. We now have a good reason for taking our game to another level," he said.
Sulom Treasurer General, Tiya Somba Banda, said the players get monetary prizes through their Mpamba accounts a day after a game.
Somba Banda said, while man-of-the match awards are guaranteed in every game, deadlock breaker awards only apply to games that end with goals.
"We are encouraging teams to score goals in every game. So, any player who scores the first goal in any game gets K10,000," he said.
Chester's sterling performance has escaped the attention of Flames Coach, Ronny van Geneugden, who has dropped him from the squad that is in Morocco for the 2019 Africa Cup of Nations qualifier.
A vibrant writer who gives a great insight on hot topics and issues