Columns
'The danger of a single story'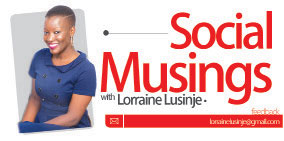 With Lorraine Lusinje:
Renowned Nigerian writer, Chimamanda Ngozi Adichie, once gave a TEDx talk titled 'The danger of a single story'.
In the talk, she touched on the prejudices and assumptions that come with being exposed to one side of a story. She narrated some personal experiences, like the fact that, while growing up, she only had access to British and American children's books, which affected the view she had of books.
Adichie narrates: "I was also an early writer, and when I began to write, at about the age of seven, stories in pencil with crayon illustrations that my poor mother was obligated to read, I wrote exactly the kinds of stories I was reading: All my characters were white and blue-eyed, they played in the snow, they ate apples, and they talked a lot about the weather, how lovely it was that the sun had come out.
"Now, this despite the fact that I lived in Nigeria. I had never been outside Nigeria. We didn't have snow, we ate mangoes, and we never talked about the weather, because there was no need to. My characters also drank a lot of ginger beer, because the characters in the British books I read drank ginger beer. Never mind that I had no idea what ginger beer was.
"And for many ye a r s afterwards, I would have a desperate desire to taste ginger beer. But that is another story.
"What this demonstrates, I think, is how impressionable and vulnerable we are in the face of a story, particularly as children. Because all I had read were books in which characters were foreign, I had become convinced that books by their very nature had to have foreigners in them and had to be about things with which I could not personally identify. Now, things changed when I discovered African books. There weren't many of them available, and they weren't quite as easy to find as the foreign books.
"But because of writers like Chinua Achebe and Camara Laye, I went through a mental shift in my perception of literature. I realised that people like me, girls with skin the colour of chocolate, whose kinky hair could not form ponytails, could also exist in literature. I started to write about things I recognised.
"Now, I loved those American and British books I read. They stirred my imagination. They opened up new worlds for me. But the unintended consequence was that I did not know that people like me could exist in literature. So what the discovery of African writers did for me was this: It saved me from having a single story of what books are."
Another example she gave was of her experience when she went to United States of America (USA) for her college education and found a roommate who was waiting for her with a patronising and well-meaning pitiful disposition as she was expecting Adichie to be a poor, unexposed and illiterate girl because that is what she knew about Africans. The roommate had been exposed to a single story about Africans.
She gave this talk in October 2009. Fast – forward to the present, the single story has become even more of a menace, especially with the rise of technology and social media.
In the digital era, the single story has become more of a danger because everyone is a gatekeeper of information and everyone can disseminate information. We digest one sided bits of information and make important conclusions and pertinent decisions without getting the full story. We make assumptions about people, be it good or bad assumptions with a single angle of information.
What is worse is we take the information we like, that aligns with our opinions and prejudices, from the people we like and support and that align with our opinions and prejudices without verifying other sides of the story.
Barak Obama summed up this point very well in his final speech as President of the USA: "And increasingly we become so secure in our bubbles that we accept only information, whether true or false, that fits our opinions, instead of basing our opinions on the evidence that's out there".
How many times in life do we question the single story? How many times do we look for the evidence that is out there; the other side of the story? How many single-story opinions and conclusions have we made? How many mistakes could we avoid if we reject the single story? How many important decisions have we made or compromised because of a single story?
Again, beware of the danger of the single story.
I rest my case
Facebook Notice for EU! You need to login to view and post FB Comments!
A vibrant writer who gives a great insight on hot topics and issues